Harbir Kaur Bhatia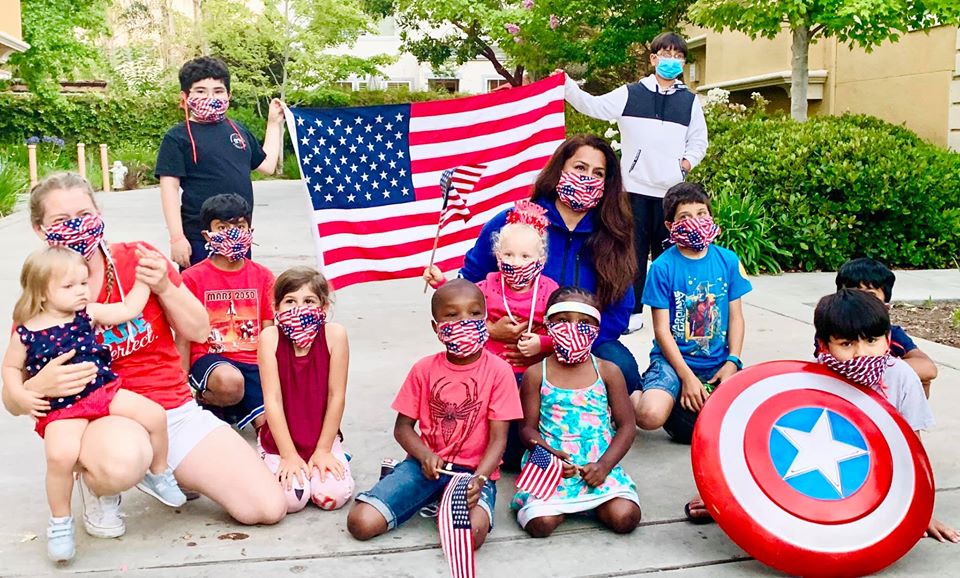 Hi there! Thank you for coming by to learn more about me. I hope I can provide you a perspective without making you read a book. I am a long time resident of this lovely city and have been lucky to be treated as a trusted community organizer for over 15 years in Santa Clara and the Bay Area for about 25 years. Since I can remember, community service and 'betterment for all' have always driven me through my childhood days, college, and alongside my career.  As I now run for office, I am driven to create a better city, not as a politician but as a civic entrepreneur at heart! The times of 'politics as usual' is over!
I am an Indian American Sikh female that came to America in the late 70s at the age of 7 with my family and landed in the Midwest. Since I wasn't born here, sadly, I can not be the President.  That was a little immigration humor
Continuing on!
With a variety of interests, I developed a diverse professional career as an engineer and then a marketer, strategist, producer, and community organizer.  Seems like a long list, but there is so much more that makes us who we are than one thing. My education includes a Masters in Engineering from Santa Clara University and a Bachelor's in Electrical Engineering. Whether it was elementary or college, my brain was always focussed on making community and people's lives better. Community service had and continues to drive my life and decisions, and a great learning source as well.
I am a proud daughter of my parents who sacrificed all they knew to bring me and my siblings to the United States, as a young family. My father was an electrical engineer and mother a domestic engineer (homemaking). I chose to be an engineer to follow my father. They both have been the sculptors and force that shaped me. My brother and sister are both medical professionals, with lovely families. Allowing me to be a very proud Auntie, and hopefully, their favorite Auntie, too!
Our parents grounded us to instill in us the importance of equality, equity, and justice. We were expected to participate in after-school projects, community service, music, and athletics. With the greatest focus in service and excellence in what we do. 'Sikhi' (aka Sikhism) had always been very much part of our teachings to guide us. Along with the South Asian beliefs of  'dharam' and 'seva', which mean that it's our duty to serve the community! Much of the attitude towards volunteerism, activism, and seeking equality for all come from. They have taught me, enriched and deepened my respect for 'life'. Great love for people, arts and culture, and communities as a whole. All, in all, I have received so much that I am grateful for. My hope is to always be a tide that raises all the boats!
I left the tech industry a few years ago to focus on the passion of the community. I am now a Community Benefit Consultant and previously worked at SiliconSage with a focus on community benefit and innovation. During this time I was able to work with the community to improve developments and introduced new concepts to serve the residents, small businesses, the youth, and seniors. While creating a win-win for the builder as well. I have also had a couple of startups allowing me to continuously learn and innovate, and run operations. Before moving into more community-related roles, my last tech role was in tech services as client management and project fulfillment. Managing multi-year projects, relationships, and huge contracts, reporting, and innovation was critical for success. Prior to this, I was in the R&D and product management positions to drive initiatives end to end and manage cross-functional roles and teams. While alongside always serving in numerous volunteering and leadership positions. I have always had a passion for innovation, creating awareness, connecting people, and creating value.
I am also an entrepreneur at heart, and have launched my own startups. I am passionate about helping small businesses and the local business community. My position as a Board member at Silicon Valley Central Chamber of Commerce (formerly Santa Clara Chamber) has allowed me to support SMB growth and also Women in Business.
During this COVID crisis, I felt we all had to take a greater role in caring for ourselves and dealing with the pandemic by providing solutions.  I started the SC Community Coalition and a few other projects to provide relief during the COVID crisis by partnering with organizations, community groups and individuals. Our initiatives created a huge positive impact, at the city, county, state and nation-wide level.
The Food Pantry has been serving almost 1000 households of vulnerable groups,
Mobilized the community to address PPE shortage during the pandemic:

Made and donated over 40,000 masks for the local and national groups,
Designed and produced around 6000 hand-made premium medical grade face shields by employing local workers,
Partnered with local corporations, nonprofits and hospitals to support frontline workers.

Over 120 Daily Story Times, friendly checks on seniors, a platform of resources and communications for this crisis and future crisis, and more.
Our Coalition and projects were covered in many news outlets during this time.  It was the collaboration of community, problem solvers, and caring citizens that allowed us to make a significant impact. That is the power of community!
In addition,  I serve or I have served on a variety of boards and organizations,  which has given me a lot of insight and learning.
Santa Clara Community Coalition, COVID Relief – Founder
Santa Clara Cultural Commission
Joint Venture Silicon Valley – Deputy Board Member
Member of The Women's Forum
Past President 2019-2020 and Board Member of the Santa Clara  Library Foundation
JOY of SEWA Advisor
SC Rotary Board Chair for International Projects 2020-21
SC Rotary Multicultural and Inclusion Task Force 2020-2021
Rotary Climate Action Committee
Member of the Advisory Board of Women's March SJ
SJ Sikh Temple Community Relations Director
Until recently was a Board Member of Silicon Valley Central Chamber of Commerce
Economic Development Committee, SVCCC
Strategic Planning Committee
Chair for Task Force for SVCCC 2019
Speaker at Habitat For Humanity Women's Build
Rebuild Silicon Valley  – Veteran Housing Building
Fundraising Committee and Online Outreach Committee Lead for Northside
I feel honored to have received awards for leadership and service. Here are a few relevant ones:
"The Community Hero Award by California Assembly" by Ash Kalra, Kansen Chu, and Evan Low
"Leadership in Business  Award"
"Women's Empowerment: Inspiring Achievement Award"
"Distinguished Community Leader", by the Santa Clara Chamber of Commerce (now known as Silicon Valley Central Chamber of Commerce) and more
Most recently, I was honored to be recognized as one of the top 10 Volunteers  51st Annual Tiffany Crystal Bowl Awards for Service by Junior League of San Jose 
 A Little Background About My Earlier Years
Coming to America and growing up in the late 70s and 80s as brown immigrants, and being even more visually different as Sikhs, my family experienced and has seen our fair share of discrimination, bullying, and prejudice first hand.  At that time, society was full of contradictions in practice and principles of freedom, equality, innovation, and justice. I saw inconsistencies about women's rights and empowerment, creating conflict in self-worth, and overall apathy. The poor seemed to keep getting poorer, and the rich richer. Of course, this doesn't sound new even today. The Sikh principles that my family always taught us to see was "all as one" and therefore there should be equality and justice for all, activism against oppression, and community service and respect for life in all forms and the planet that allows us to exist, and is in some way an extension of us and vice versa. Since we are the same, we are tied and a part of each other and affect each other, what affects a part affects the whole.
These were pillars of strength that we held onto and still do. The declaration of independence is something that was a guiding light for our vision of the best of America.
"We the People"
"We hold these truths to be self-evident, that all men are created equal, that they are endowed by their Creator with certain unalienable Rights, that among these are Life, Liberty and the pursuit of Happiness."
In Summary
Together, these principles inspired me to strive for excellence and seek betterment for all. I was encouraged to engage in the community, join an uncommon profession at the time for women (electrical engineering), and also pursue my interests in community building, improving multicultural understanding, celebrating culture, and being innovative at the same time, too. Volunteering from a young age allowed me and the family to build community and great relationships, develop new skills, and give back!  Now, I hope to continue this journey of creating communities that provide opportunities, enriching environments, and supportive societies for a thriving and sustainable future.
I am always on a constant quest to make things better and to build community. It should be about the "WE and not just ME"!  — "Sarbat Da Bhalla"— "Betterment for All"