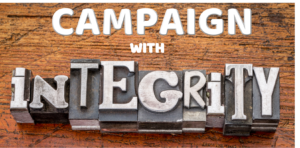 OUR APPROACH
I have been asked from press and others about how I will deal with the opponent.
Simply put "with integrity and civility".
My team of sincere and caring people agreed to campaign fairly and to do the same as we would expect.
We WILL NOT
Destroy or damage any political material
Remove any signs
Disrespect
Make personal attacks
Use any inappropriate language
Make any false accusations
We WILL
Be considerate and kind
Listen
Defend ourselves
Use Facts
Take donations consciously and not take funds from special interest groups
Own any mistakes and issues made by us
We will do our best to make our city better!
LAW
It is illegal and unethical to destroy political signage or remove political signs.
California Law: AB-362 Political signs: theft and damage.
This bears reiteration- this is also part of our grassroots campaign's 'INTEGRITY'! Learn more: Our Campaign Promise is to NOT accept any money from Special Interest Groups, PACs, 49ers etc.
Campaign money is a matter of public record and transparent. Click and search for my name, Harbir: https://public.netfile.com/pub2/?aid=CSC